As a woman you have a very complex biochemical physiology. In other words, your body has a lot going on. When there is so much that the body is trying to balance at the same time there are opportunities for things to get imbalanced. There are a few common features that are important for most women at some point in their lives:


We offer complimentary product consultations and a broad suite of lab testing. Just call us and we'll connect you with a healthcare professional free of charge
Energy and Stamina

Mood support
Menopause
Osteoporosis
PMS
Weight Loss
Depending on what area of interest is most important to you will help tailor the ideal targeted nutritional supplement protocol to meet your needs. Conventional medicine is quite effective for acute medical care and severe pathologies but it does not have much to offer in the way of prevention or for the items listed above.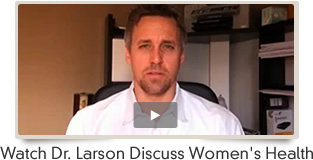 Natural medicine, on the other hand, has a lot to offer but it can be difficult knowing where to start.
One of the things that make Pure Prescriptions very unique in this industry is the personalized attention we have emphasized over the years. Not only do we offer very high-quality nutritional supplements, but we also offer complimentary product consultations and a broad suite of lab testing. There are so many different products out there to choose from, so we want to help you take the guesswork out.


You can use the Vitamin Doc to help you make choices based on your individual needs


You can order a lab test to take the guesswork out and find scientifically exactly what your body needs


You can call us and speak with our nutritional support team any day, free of charge
Perhaps you are interested in checking your hormones with The Postmenopause Panel™:
Details: Menopause is a natural and usually gradual change in glandular function in women resulting in substantial shifts in hormone levels. The Postmenopause Panel™ provides measurements of six key hormones.
Includes: measurements of six key hormones: Estrone (E1), Estradiol (E2), Estriol (E3), Progesterone (P), Testosterone (T) and DHEA, DHEA-S (pooled).
Or maybe you want to evaluate your hormones before menopause, check out The Perimenopause Panel™:
The Perimenopause Panel™ contains the same components as the Postmenopause Panel™ but sampled twice, 13-15 days apart, to get a more comprehensive assessment of the female hormones.
Or maybe you are looking for answers for your low stamina, check out the Adrenal Stress Index (ASI™):
If you're serious about being healthy, we recommend having hormone testing to have a baseline to go from ...
Details: Abnormal adrenal function can alter the ability of cells to produce energy for activities of daily living. People who have a hard time rising in the morning, or who suffer with a low energy level during the day, often
have abnormal adrenal rhythms & poor blood sugar regulation. The maintenance of a stable blood sugar level depends on food choice, lifestyle, adrenal function and insulin activity. This panel measures stress hormones and insulin, to help ferret out causes of fatigue, cravings and obesity.
There are many ways that we can help you meet your health care needs. Do not hesitate to call for more details (800.860.9583) and feel free to browse our Women's Health category for natural products or head over to our Health Library here.